Today is the 1st of December, international AIDS day. The human immunodefeciency virus (HIV) is a subgroup of retrovirus (a lentivirus to be exact) that causes HIV infection and acquired immunodefeciency syndrome (AIDS). AIDS is a condition in humans in which progressive failure of our immune system allows potentially life-threatening infections and even cancers to thrive. Currently there are two types of HIV that have been characterised : HIV-1 with high virulence and high infectivity which is common globally, and HIV-2 with low virulence and accordingly low infectivity which is prelevant for West Africa. According to WHO since the beginning of the epidemic almost 78 million people have been infected with HIV and around 39 million people have died from HIV. By the end of 2013 approximately 35 million people worldwide were infected with HIV virus.
Despite of intense research existing treatments from HIV are far from being satisfying. Current advance of combined HIV treatment includes multiple antiretroviral drugs which help to keep the disease in a chronic state where it does not progress into AIDS. However any disease and in particular HIV is easier and cheaper to prevent than to treat. Currently we have preventive vaccines against such diseases as polio, chicken pox, measles, rubella and many others. We often forget how many lives these maladies took before the vaccines were developed. But what about AIDS ?
In 1984 the US secretary of Health and Human Services Margaret Heckler declared that a vaccine against HIV would be available within 2 years. However the reality was not so bright. HIV differs from other viruses by its high genetic variability. This is due to the fast replication cycle and high mutation rate. Therefore the immune response raised by any vaccine has to cover this variability. Classical vaccines mimic natural immunity against reinfection generally seen in the fully recovered individuals. Up to date there are no fully recovered HIV individuals. This is one of the key issues with HIV vaccine development.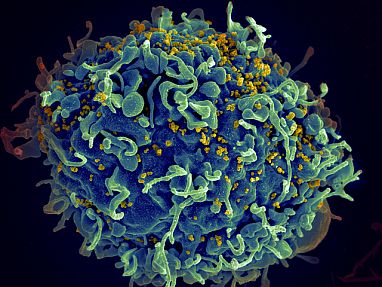 Currently there have been reported several HIV vaccines in Phase I, Phase II and Phase III clinical trials.
Phase I. In 2011 researchers from National Biotech Center in Madrid unveiled their Phase I clinical trials results of anti-HIV vaccine. MVA-B was reported to be effective in inducing immunological response in 92% of health subjects.
Phase II. There are currently several ongoing Phase II clinical trials for the anti-HIV vaccine. One of the most promising is a vaccine developed by French pharmaceutical company Biosantech. The chief executive Corinne Treger claims that in case their new study with 80 patients in 2015 is sucessful the vaccine (aiming to replace antiretroviral treatment) will be available by 2017.
Phase III. VaxGen had been so far the most sucessfull in pushing the anti-HIV vaccine development as far as Phase III, however further studies are still necessary to make the drug more than 50% effecient.
So before the vaccine is available... don't be stupid. Use condoms.
Happy AIDS day! Remember that AIDS can be transmitted only via unprotected sex or blood transfer. Handshakes and hugs can't let you get HIV. So if you know someone suffering from this maladie, go give him a big hug. He/she needs it, because he or she is daily going through a lot of stuff.
Credits&bibliography
https://www.aids.gov/hiv-aids-basics/prevention/prevention-research/vaccines/
https://en.wikipedia.org/wiki/Management_of_HIV/AIDS
https://en.wikipedia.org/wiki/HIV
http://www.unaids.org/en/resources/presscentre/featurestories/2014/march/20140310salim
http://consumer.healthday.com/encyclopedia/infectious-diseases-26/misc-infections-news-411/hiv-advances-in-treatment-647676.html
http://www.niaid.nih.gov/topics/hivaids/Pages/Default.aspx
http://www.nih.gov/research-training/advances-hiv/aids-research
https://en.wikipedia.org/wiki/HIV_vaccine
https://www.aids.gov/hiv-aids-basics/prevention/prevention-research/vaccines/